One of the famous carbonated drink in the world is Pepsi. It is manufactured by PepsiCo, which in turn has been doing this for nearly a century. The company hasn't always been successful. There were periods when it just went bankrupt. Despite this, it still managed to achieve large-scale demand in many European countries. Coca-Cola is considered Pepsi's only competitor.
One of the world's most established food and beverage companies, PepsiCo has strong sales of over $68 billion. In addition to Pepsi, the company is also engaged in the manufacture of such well-known chips as Lays and Lipton tea.
This carbonated drink is popular with many people around the world. Every day, thousands of sugary water fans buy Pepsi.
The first steps
Pepsi-Cola, or simply Pepsi, is a popular non-alcoholic sweet drink sold in all countries. The main competitor for "Coca-Cola" for many years. The rights to the Pepsi-Cola trademark belong to the American company PepsiCo.
First manufactured in 1890s in New Bern, North Carolina by pharmacist Caleb Bradham. In 1898 the product was renamed Pepsi-Cola. This trademark was officially registered on June 16, 1903.
In 1923, PepsiCo went bankrupt due to the rise in sugar prices as a result of the First World War. Her assets were sold. Eight years later, the company went bankrupt again.
During the Depression of the 1930s, PepsiCo launched a successful attack on Coca-Cola's market position. Pepsi Cola began selling in 12-ounce bottles and priced at £ 5. A 6-ounce bottle of Coca-Cola also cost £ 5. Coca-Cola could not dispense the drink in another bottle, since the vending machines accepted 5 coins, and Coca-Cola had a supply of 1 billion 6-ounce bottles. In 1939, Pepsi Cola became extremely popular with children.
During World War II, Pepsi Cola bypassed both the Royal Crown and Dr. Pepper and became the No. 2 drink after Coke. In the early 1950s, Coca-Cola was 5 times ahead of Pepsi-Cola.
In 1961, for the first time, an advertising campaign was held under the motto: "Pepsi is for those who feel young." By 1964, the idea took on a classic look: "You are the Pepsi generation."
In the mid-1970s, PepsiCo ran a Pepsi Challenge promotion. Blind tests were performed on two drinks. The protesters preferred Pepsi-Cola to Coca-Cola by a 3: 2 margin, and this fact was announced in a television advertisement.
In 1960, Coca-Cola was drunk 2.5 times more than Pepsi-Cola, and in 1985 - only 1.15 times.
The collapse of Pepsi in 1923 robbed the Pepsi-Cola formula of the secrecy. To file for bankruptcy, Caleb Davis Bradem, the creator of the drink and the head of the company, had to not only submit a recipe for the syrup to a federal court, but also confirm the truth of this information under oath. In exact translation, it looks like this.
Main ingredients. Sugar: 7,500 lbs, water: 1,200 gallons, caramel (burnt sugar): 12 gallons, lime juice: 12 gallons, phosphoric acid: 58 lbs, ethyl alcohol: 0.5 gallons, lemon oil: 6 ounces, orange oil: 5 ounces , cinnamon oil: 4 ounces, nutmeg oil: 2 ounces, coriander oil: 2 ounces, petitgrain oil: 1 ounce. Stir for 2 hours, boil water with sugar.
Little-known petitgrain oil is obtained by distillation of leaves, young branches and fruit ovaries of various types of citrus fruits. There are no health hazardous substances in this recipe, with the exception of a huge amount of sugar. US approximate values: 1 lb = 454 g, 1 gallon = 3.8 liters, 1 ounce = 28.3 g.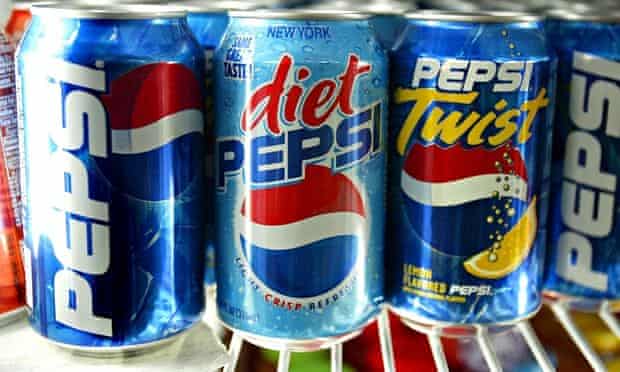 Brand strengths
Capital. The well-known brand, also known as the youth brand, has impressive recognition and reputation. The brand itself is worth about $19.4 billion and is in 29th place in the ranking of the most demanded goods.
Serious leadership. Under the leadership of Indra Nooyi, PepsiCo has achieved incredible results, ranking second in the food and beverage sector, after the Nestlé brand.
Product profile parameters. In 2015, Pepsi's sales declined sharply. This is due to the fact that most young people are beginning to eat healthily and cut off sugar from their diet. Despite this, the brand entered the top 5 best-selling products.
Great popularity. This carbonated drink is in demand in more than 200 countries around the world.
Binding. Often, Pepsi is a sponsor of various sporting events, and the brand will participate in musical events as well. This makes the brand highly recognizable among young people.
Specific target audience. From the very beginning, Pepsi has been targeted at young people. Advertising campaigns were carried out on sites where active young people were present.
Brand capabilities:
constantly improve the quality of its product, depending on the desires of consumers;
huge financial support, which makes it possible to continue developing;
finding the perfect option for people looking to eliminate sugar;
a wide range of flavors.
Sales over the past couple of years
In recent years, demand for Pepsi has grown significantly. Each day, this product is purchased in huge quantities around the world. As statistics show, over the past 10 years, brand sales have grown by as much as 13%.
Direct beverage sales rose 15%, and catering revenue, including sales to restaurants, stadiums, and university campuses, doubled in the quarter.
PepsiCo's second-quarter net income was $2.36 billion, up from $1.65 billion a year earlier.
Unfortunately, the tightening of quarantines has had little impact on Pepsi consumption. But with the easing of all quarantine measures, sales were leveled.